Four MSPs to contest Scottish Tory leadership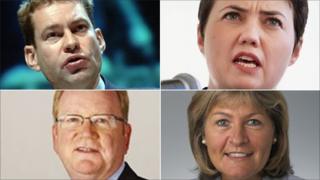 Four MSPs have won enough backing for the fight to replace Annabel Goldie as Scottish Conservative leader.
Deputy leader Murdo Fraser, transport spokesman Jackson Carlaw, and new MSP Ruth Davidson all received the required 100 nominations to take part.
And a last-minute candidate, Margaret Mitchell, has also won enough support, despite only declaring her intention to stand on Wednesday.
The new leader is expected to be announced on 4 November.
A series of hustings will now take place, before all 8,500 Scottish Tories are sent voting papers for a ballot to determine the new leader.
Miss Goldie decided to go after the party's vote in Scotland fell to a record low.
The Scottish Conservatives returned to Holyrood in May with fewer MSPs, and the last general election saw the Tories win just one seat in Scotland, despite them emerging as the largest party across the UK.
Speaking after the close of nominations, Mr Fraser said: "This is the first time in decades that our party is having a proper debate about its future.
"I will continue to set out the case for transforming the Scottish Conservatives into a new, stronger centre-right party for Scotland to stand up for the interests of people in Scotland credibly and effectively and to continue to explain why remaining within the United Kingdom is very much in Scotland's interests.
"Such a change would be good for Scottish politics, good for Scotland and good for the future of the United Kingdom."
Ms Davidson said: "The Scottish Conservatives should be seen as the natural party of aspiration; the party that backs the hard-working and enterprising, and the socially conscious.
"I see the Scottish Conservatives as the party for Scots of all backgrounds who want safer streets, better schools, and a vibrant economy."
She added: "Breaking up the party or just giving it a new name will not achieve any of this.
"Everywhere I go, I hear members telling me they want the opportunity to elect Conservative politicians, a Conservative government and a Conservative prime minister - I am not going to deny them that opportunity."
Mr Carlaw said he was standing because he believed he could make a difference.
He added: "I am the candidate, I think, who has the greatest experience, over 30 years at all levels.
"I am somebody who has an idea of exactly what we need to do to shake the party up.
"And more importantly, I understand that we have to have election-winning policies, supported by an election-winning organisation, capable of standing up to the SNP. I think we have danced to their tune for long enough."
The final candidate to confirm, Ms Mitchell, said: "I think it is reasonable that you listen to what all the candidates have to say and frankly there weren't any of them that represented my views, or what I believe are the vast majority of the Conservative members.
"That's been confirmed when I was phoning around speaking to people about standing.
"There seemed to be a collective sigh of relief, saying at last we've got someone that we think we can vote for and move forward with."
Meanwhile, a Conservative spokesman has said there was "no truth" to allegations that Ms Davidson had used a restricted party distribution list for campaign emails.
Assistant information commissioner for Scotland, Ken Macdonald, said he was investigating a complaint against her.
The contest also comes in the wake of the Sanderson review of the Scottish Conservatives, which said a radical leadership overhaul was needed as part of a battle plan to improve the party's electoral prospects.