Business takes a tax hit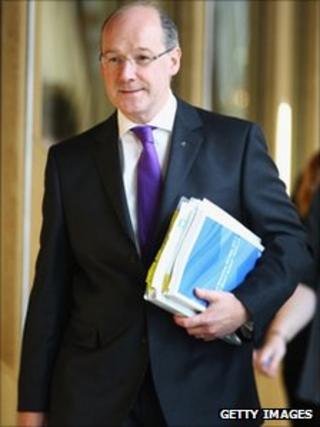 A 23% increase in Scotland's business rates bill puts pressure on company budgets. But it also puts pressure on the Scottish government to explain just how business-friendly it is.
By 2014-15, it seems John Swinney will be taking £493m more from Scottish business, in order to fill some gaps in his provision for local government.
The increase next year is 4%, or £92m. So far, in line with inflation. But then it accelerates rapidly past even the most dire predictions of inflation rate, meaning a 23% increase in the total rates bill.
That's one of the findings from the Centre for Public Policy for Regions at Glasgow University, the closest we have to an independent public spending watchdog, short of the auditor general. (And, with respect, he moves more ponderously.)
The explanation for this increase? Well, by that year, £40m should be coming from the new levy on large retailers of booze and fags. And I've just learned that it's assumed £36m per year should come from ending rates relief on empty properties. At present, empty industrial premises pay nothing, while empty offices and shops pay 50% of the full rate.
That leaves more than £400m. The Scottish government says that comes from an inflationary increase, a reduction in the rate of successful appeals on rates valuation, and on economic buoyancy.
Buoyancy? Really? Once you've started charging for empty premises in full, and apart from new business premises being built, it's hard to see how business rates revenue can be lifted, buoyantly, by economic growth. Like council tax on homes, the bills fail to adjust downwards when you fall on hard times, and nor do they rise when income booms.
There's a political problem with this. The Scottish government has been pushing for corporation tax powers, so that it can lower them and make Scotland a more competitive place to do business. Yet with one business tax power it already has, it's increasing the tax take by 23% over three years.
Health and efficiency
The CPPR at Glasgow University has highlighted other concerns it's got with the spending review. It does not accept the claims of efficiency gains, saying it's very difficult in Scotland or elsewhere to prove they're anything other than cuts.
Having looked at the Scottish government's claims of surpassing its efficiency targets, it's found some of them are based only on what is reported back to them by government agencies, who obviously have a strong interest in massaging cuts into efficiencies for the sake of an easy life.
There's also strong doubt cast upon the case for the UK government following Scotland's lead in keeping the spending taps on, with the result of strong job figures. The academics quote official figures that don't match up with the government's claims for its "Plan MacB", on construction in particular, and on the timing of the stimulus taking effect.
Bursting the levy
Returning to a couple of the controversial issues in the spending review, that levy on larger retailers (the big supermarkets) selling both alcohol and tobacco may bring criticism from business, but it may have two side-effects the government may welcome.
But first, it's worth noting - as some have loudly claimed - that the tax will be passed on at the supermarket checkout. Prices are determined much more by wholesale costs and retail competition than by the tax bill. So that's a red herring.
But the levy does answer one of the more powerful arguments against the introduction of a minimum pricing of alcohol, which we can assume the SNP majority will soon pass.
The policy looked like it was going to let supermarkets continue to buy cheap booze wholesale, and then ensure they sold it at a high minimum price, with the difference being clear profit. Well, the levy takes at least some of that profit away.
The other factor is that the policy seems designed to tackle those who sell both alcohol and tobacco. So there may be some incentive to supermarkets to stop selling tobacco altogether, thus avoiding the levy. And thus the government could choke off access to fags, while becoming more of a friend to the corner shop that still sells them, without a levy.
Fact check: council tax
And it's worth a fact check about the impact of freezing council tax. John Swinney has claimed twice on TV and radio since delivering his budget that the freeze has a disproportionately big impact on helping lower-income households.
That's true, though not by much. But it's only one way of looking at the figures. The actual amount of money that is saved by a household when its council tax is frozen is very much bigger for those who have bigger homes. It's bound to be. Not paying an extra 3% on a £1,000 bill saves you £30, whereas not paying that increase on a £500 bill saves you £15.
The finance secretary also said on today's Good Morning Scotland radio programme that one argument for freezing council tax is that it means people in big houses, whose families have moved out and whose salaries have turned to much smaller pensions as they've aged, are not penalised.
That's an entirely understandable position to take for a politician. It doesn't look good to have a policy that turfs older people out of beloved family homes.
But there's a price to be paid for that. Those big homes, with older people rattling around them, could be used for younger people with families to raise, and if those homes aren't coming on the market, it's harder and more expensive for families to find a suitable home.
Economic efficiency suggests you should create incentives for people to move out of large homes they don't need, making room for those who need them more.
But making the argument for economic efficiency, instead of being on the side of people who want to stay in their own homes, is just one sign that I'd never make much of a politician.