Scottish Labour councils blast budget deal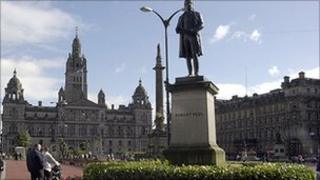 The leader of Scotland's largest council has warned that it will have to save an extra £13m next year.
Scotland's two largest Labour councils have both condemned the deal Finance Secretary John Swinney is offering local government.
Glasgow City Council said it now expects to have to find £55m worth of cuts and savings next year.
A Scottish government spokesman said: "This is a challenging but fair settlement to local government."
He said the government was dealing with "exceptional economic circumstances".
"There are funding constraints right across the public sector because of cuts from Westminster, yet throughout the Spending Review local government will receive a larger share of the funds controlled by the Scottish government, including business rates, than the position inherited in 2007-08," he said.
"We will continue to work - in partnership - on the agreed approach to joint priorities between national and local government."
Trams project
Glasgow Council leader Gordon Matheson said: "How Mr Swinney can look a Glaswegian in the eye and tell them this spending review delivers a fair deal for this city I do not know."
Mr Matheson also condemned the government for continuing with the council tax freeze without making any money available to councils to pay for it.
He said this would leave another gap of nearly £8m in the city's finances.
Mr Matheson said: "Mr Swinney says he wants capital spending to be the engine of economic growth. How then can he justify taking millions of pounds from the city that is the powerhouse of the Scottish economy in order to bail out a failed trams project in Edinburgh?"
"This city will be another £13m worse off - on top of the £42m we have already had to save in next year's budget - thanks to Mr Swinney's decision to bail out Edinburgh and take money from Glasgow to pay for the Forth Road Bridge.
Partnership
Meanwhile, North Lanarkshire Council has denied that there is a partnership between central and local government.
North Lanarkshire Council's leader Jim McCabe, who is also the leader of the Labour group at the council umbrella body Cosla, said there was no partnership between the Scottish government and local government as a whole.
He said: "Mr Swinney is fond of talking about continuing to work in partnership with local government. The simple truth is that, at present, there is no partnership.
"He claims to have agreed an approach to delivering joint priorities with the Cosla leadership; there is no such agreement. What we have had are some discussions on certain proposals. These discussions are nowhere near a conclusion because there is no clarity.
"For example, one proposal is that local authorities will use their prudential borrowing powers to fund major capital works, with that borrowing being refunded by the Scottish Government when it has powers to do so."
"But there is no clarity on key issues. Will the Government commit to refunding not just the borrowing but the deposit and interest accrued on that borrowing? Will the slack in financing left by authorities who are unable to borrow be expected to be picked up by councils like my own? Will North Lanarkshire be expected to borrow to finance projects in other parts of the country, like the Aberdeen by-pass, which are of little or no benefit to the communities we serve?"
'Unhelpful spin'
Crucially, neither council leader has publicly threatened to reject the government's objective of freezing the council tax again next year as part of a plan to freeze it for the entire length of this parliament.
In practice, if a council raised the council tax they would lose money from the government meaning the increase would have to be even greater.
Mr McCabe's comments were echoed by Cosla itself which accused the government of putting "an unhelpful level of spin" on their discussions.
Cosla's finance spokesman Councillor Kevin Keenan said: "There were talks held between our Political Group Leaders and the Government in advance of today's announcement. These were late in the day and the furthest we went during them, mainly due to the lack of detail forthcoming from Government, was that we indicated that we may be prepared to deliver on some of the issues that the Government wanted us to.
"There were no agreed priorities, we said that in order to maintain a partnership, there may be things that we would be prepared to do to a degree, but these are not joint priorities."