Scottish football 'thugs' prosecution team appointed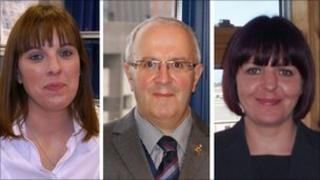 Three specialist lawyers have been appointed to deal with football-related violence and disorder.
The team of dedicated football liaison prosecutors will work with police to tackle hooliganism.
Barry Dickson will cover the west of Scotland, Vicki Bell has been appointed in the north and Faith Millar will take on the role in the east.
Solicitor General Lesley Thomson QC said they would tackle behaviour that could "mar our national sport".
It follows a successful pilot of the scheme in the Glasgow area.
The prosecutors will help police put forward a strong cases for courts to grant banning orders against the worst offenders.
They will also raise awareness of the orders with procurators fiscal.
Reputation tarnished
The Solicitor General said: "I am delighted to introduce our team of football liaison prosecutors, who will serve across Scotland to tackle the violence and disorder that can mar our national sport.
"Such conduct at football matches is not a problem that is confined to specific areas of our country, and as prosecutors we are dedicated to dealing with this criminal behaviour wherever it may occur."
Barry Dickson, the new football liaison prosecutor for the west of Scotland, will cover areas including Argyll and Clyde, Ayrshire, Dumfries and Galloway, Glasgow, Lanarkshire.
He said: "In recent years the reputation of Scottish football at home and abroad has been tarnished by criminal offending ranging from sectarian abuse to acts of violence and serious public disorder all of which have been committed by persons who claim to be fans of the game.
"In 21st Century Scotland if our national game is to flourish at all levels then there is no place for such conduct."