Robert Gordon University sets fees for RUK students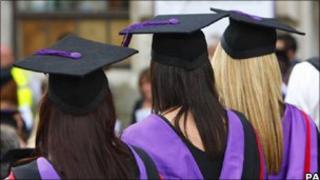 Robert Gordon University (RGU) in Aberdeen has become the latest institute to set its fees for non-Scottish students.
The university has adopted a tiered approach, with three bands of undergraduate fees.
The bands reflect the fact that some courses cost more to deliver than others.
Many of the courses include a paid work-placement which will be charged at 50% of the headline fee.
The headline cost of courses at RGU has been set at between £5,000 and £8,500 a year.
The most expensive course, the Master of Pharmacy, will cost a total of £34,000.
Professor Ferdinand von Prondzynski, Principal and Vice-Chancellor of Robert Gordon University, said: "In setting our RUK bands we believe we have developed a framework that is both fair and pragmatic.
''By basing our charges on the cost of delivering our degrees, we are ensuring that we do not make profit from students who wish to study at RGU, while ensuring their study is not subsidised from revenues received to support Scottish and EU students.''
The Scottish Agricultural College (SAC) has also announced it will set fees of £6,750 and a degree cost of £27,000 for English, Welsh and Northern Irish students from 2012/13.
Robin Parker, president of NUS Scotland, said: "The setting of £27,000 for a degree is not good news for SAC students from the rest of the UK.
''We know that fees price out students and make educational decisions come down to ability to pay, rather than ability to succeed.''