Rare Sandhill crane arrives at the Loch of Strathbeg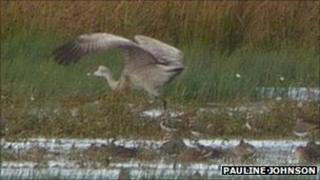 An adult Sandhill crane has arrived at the Loch of Strathbeg in Aberdeenshire.
It is the fourth ever recorded in Britain, according to the Royal Society for the Protection of Birds (RSPB).
The species normally breeds in the United States and Canada, migrating south in the autumn months.
The bird may have been blown of course during hurricane Katia.
The Sandhill crane is the first of its type to arrive inland.
Birds like the Sandhill crane, which turn up miles from where they are supposed to be, are called vagrants.
Bird fanatics
Staff at the nature reserve said "all eyes" will be on the crane this weekend.
A steady stream of people have already come to catch a glimpse of the bird.
The nature reserve is expecting over 100 bird watchers this weekend.
Staff have been trying to contact a visitor who reported a crane on the reserve on Saturday.
It was presumed at the time this was a common crane but it is now thought this may have been the first sighting of the new arrival.
Diana Spencer, visitor and publicity officer at RSPB Loch of Strathbeg, said: "We've had a few 'lost' American birds on the reserve recently, but we've never had one as large as this.
''It's quite unmistakable, similar in size to a heron with a bright red forehead, and long dark pointed bill.
''We're expecting it'll attract a lot of interest over the weekend from birders across the country."