National Trust for Scotland to hold local assemblies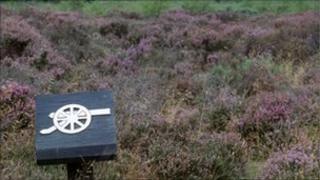 The National Trust for Scotland (NTS) will hold a series of local assemblies next year to help improve the running of the charity, its chairman has said.
Results of a review published last year recommended changes were needed to make the trust "fit for purpose".
Following its AGM in Dundee, NTS's chairman Sir Kenneth Calman said the organisation was "embracing change".
Local assemblies will be held across Scotland and would involve meetings between staff and communities.
NTS plays a crucial role in protecting and promoting cultural heritage and oversees more than 100 sites, including Culloden Battlefield and the islands of St Kilda, a world heritage site.
At the AGM, members were told that the trust's financial reserves had "improved significantly".
The general income fund - the free reserves of the trust and which it considers its true measure of its financial health - increased to £13.4m from £8.5m.
NTS also reported that its membership rose from 306,000 to 308,000 in the past year.
'More meaningful'
After the meeting, Sir Kenneth said: "The trust is proud to be celebrating its 80th year - it is an organisation with a long history.
"But, we are also an organisation with a bright future too and one which is embracing change.
"That's why from next year, we will be taking the trust out across Scotland to engage in dialogue with our members, communities and partners in a more meaningful and more productive way."
He added: "This is an important cultural shift for the organisation showing our commitment to both accountability and co-operation, key principles our new strategy."