Scotland nurses morale and job security concerns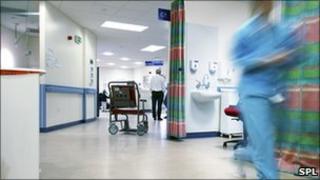 Fewer than a third of Scotland's nurses feel the profession offers a secure job, the Royal College of Nursing says.
Its survey of 700 nurses and health care support workers found 30% felt secure, compared with 82% in 2009.
RCN director Theresa Fyffe said Scotland's nurses are under "immense pressure" due to financial worries and that morale is "plummeting".
Health Secretary Nicola Sturgeon said government would do "everything in its power to support the NHS".
Other findings included 38% of respondents saying they would recommend nursing as a career, compared with 54% two years previously.
Almost three quarters of those surveyed believed stress had increased at work.
Two thirds are more worried about job cuts and possible redundancy than a year ago and 68% said financial concerns had increased since 2010.
'Warning shot'
Director of RCN Scotland Theresa Fyffe said: "Given the continuing cuts to the nursing workforce, prolonged pay freeze and planned pension increases, it is no surprise that the morale of nurses and health care support workers in our NHS is plummeting.
"While the impact of such pressures could be expected, it doesn't mean the situation should continue. If action is not taken and stress continues to increase, standards in patient care will begin to fall.
"The survey was carried out before it was confirmed in this week's Scottish budget that pay for NHS staff earning over £21,000 is to be frozen for a second year, so it is likely that the financial pressure on our members will increase even further.
"The survey's findings should fire a warning shot across the bows, for the Scottish Government and NHS managers alike.
"Our nursing workforce is at breaking point and the tactic of cutting posts in an uncoordinated manner is simply not working.
"We need a vision for our NHS which sets out how services can be delivered more efficiently without placing an unacceptable burden on nursing staff, the very backbone of health services in Scotland."
Last month, Scottish government figures showed an increase in the number of nursing posts being lost across NHS Scotland with staff numbers at their lowest level since 2006.
Ms Sturgeon said: "Our nurses do a fantastic job. I know how tough a job it is and they have my thanks and appreciation at all times.
"The current financial and economic climate is having an impact on all sections of society.
"Firstly, we have fulfilled our commitment to pass on the health Barnett consequentials to the NHS in Scotland in full. Over the next three years, health board budgets will rise in real terms, reflecting our commitment to frontline services.
"Secondly, I have made it clear that, as the size and shape of the NHS workforce changes to reflect changing patterns of care, we must work in partnership with staff to ensure that quality of care remains the top priority.
"The RCN knows that my door is always open to them to discuss these issues. And thirdly, we have made clear that a key objective of our pay policy is to preserve jobs as much as possible.
"We have now committed to maintaining our policy of no compulsory redundancies for a further year, precisely to give workers, like nurses, who do difficult and stressful jobs, the job security that they deserve."