MP Anas Sarwar stands for Scottish Labour deputy leader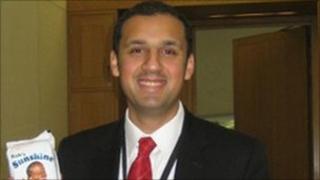 A Glasgow MP has announced he will stand for the post of deputy leader of the Scottish Labour Party.
Anas Sarwar said he wanted to bring his party "together in Scotland and renew it as a campaigning force to give the new leaders the best possible chance".
The 28-year-old was elected as an MP at the 2010 General Election.
He won his Glasgow Central seat which had been vacated by his father, Mohammad Sarwar, who retired after 13 years as an MP.
The Scottish Labour Party is in the process of finding a new leader and deputy leader.
Current leader Iain Gray announced that he was to stand down from the post after the Holyrood election in May.
Under new rules being brought in by the party, MPs will be allowed to stand for the post of Scottish Labour leader and deputy leader. They were roles which had previously been reserved for MSPs only.
Mr Sarwar said: "After a crushing defeat at Holyrood, Labour must now come together, rebuild and renew itself to regain the trust of the people and deliver a better future for Scotland.
"Since the election there has rightly been a focus on our structures and organisation. But we must not forget that this was a political defeat made worse by organisation and structures."