HM Inspector says Scottish police forces 'well run'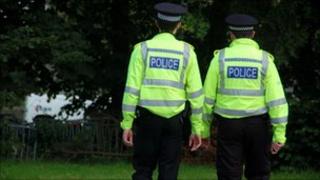 An independent report has praised Scotland's police forces for contributing to a 35-year low in reported crime, despite facing "increasing financial challenges".
Andrew Laing has published his first report as HM Inspector of Constabulary for Scotland (HMICS).
He said the country's eight forces have delivered £18.5m of savings and £80.3m of efficiency savings in the last year.
Forces were found to be well run and delivering better services.
The report also said they were benefiting from "strong leadership".
HMICS is responsible for inspecting the eight Scottish police forces and the services provided by the Scottish Police Services Authority (SPSA).
It operates independently of the police forces, police authorities and the Scottish government.
Mr Laing said Scottish forces showed "positive performance" against all key indicators, including efficiencies, public satisfaction, recorded crime and detection rates, during the period from April 2010 to March 2011.
Landmark reform
Strathclyde Police, Scotland's largest force, made efficiency savings of £48.7m - more than double its target of £23.7m.
Lothian and Borders Police was praised for its strategy for tackling serious organised crime, which implements early intervention schemes to divert vulnerable people away from a life of crime.
The enforcement has resulted in 150 arrests and the seizing of £3m worth of class A drugs in the past year.
The report said evidence suggests public satisfaction, confidence and attitudes to police in local communities are continuing to show upward trends.
Mr Laing said: "Scotland's police forces have contributed significantly to making our communities safer and stronger.
"However, much of this has been delivered during a period when funding, resource and officer numbers were at a historic high.
"While forces have already demonstrated their ability to deliver services ever more efficiently, the continuing financial pressures, combined with the government's landmark policy on reform presents Scottish policing with the most challenging period in recent times."
He added: "Activities during the period of this report demonstrate forces' commitment to maintaining front-line services and delivering continuous improvement."
Earlier this month the Scottish government confirmed its intention to create a single Scottish police force to replace the eight existing ones.
Justice Secretary Kenny MacAskill said: "I welcome the HMICS annual report.
"Our police forces do an excellent job protecting communities and we are rightly proud of them.
"Police are performing well, we are making strong progress in Scotland's justice system and Scotland is becoming safer."
Challenging period
Chief Constable Kevin Smith, president of the Association of Chief Police Officers in Scotland (Acpos), said: "The first report by Andrew Laing makes very positive reading.
"It is very encouraging to note that, from his independent perspective and after all the detailed inspection work which has been carried out on his behalf, he finds that the police forces in Scotland are well run, with strong leadership, while delivering better services with increasing efficiency.
"That is a significant endorsement of policing in Scotland."
Chief Constable Smith said he agreed that police forces in Scotland were facing their most challenging period.
He added: "I welcome his (Mr Laing) commitment to remain closely involved with the reform programme as well as continuing to monitor the Scottish police service as it continues with business as usual.
"In particular, HMICS rightly highlights that the current performance of the police service sets the bar at a very high level and as we enter a significant period of reform, the challenge will be in both maintaining that performance while delivering the reform.
"The police service in Scotland is ready for that challenge."