Abertay University's future 'handled by fax'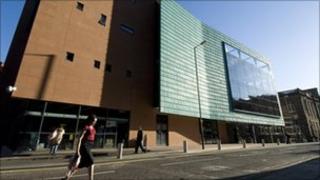 A leading academic expert has accused the Scottish government of conducting a university merger "by fax".
Lord Sutherland said a "veiled threat" had been made to Dundee's Abertay University over a possible merger with Dundee University.
Abertay University had been asked to give an "evaluation and analysis" of its role, sparking speculation over its future.
Ministers are planning a college and university shake-up, with some merging.
Scottish Education Secretary Mike Russell said he had made it clear that merger was not the only option.
In a letter sent to Abertay's governing body by the government's Scottish Funding Council, the institution was asked to submit views on its role, given the "rapidly-developing financial and policy context", while a request was also made for it not to appoint a new principal.
Lord Sutherland, a former principal of London's King's College and Edinburgh University, said of speculation over a Dundee merger: "I can't think, of a worse way of doing it. It looks like merger by fax."
He told the Scottish Parliament's education committee: "How do you give five-weeks to draw up a plan for two institutions with very divergent systems, very divergent strengths, and, don't forget, it's the impact on Dundee as well as Abertay."
Training opportunities
Lord Sutherland said the University of Dundee had worked hard to achieve a world-class reputation in life and medical sciences, adding: "How is a merger of this kind, fixed up in five weeks apparently, going to affect that strategy?
"I would worry that a distraction like this - and it would be for them - and actually a need to put money elsewhere than a considered, successful strategy is not a good thing."
Lord Sutherland, who has overseen several mergers in the past, added: "It takes time and it requires the agreement of the institutions - not an instruction that comes as a sort-of veiled threat."
Abertay, one of the UK's smallest universities, which has developed an international reputation for excellence in computer gaming, depends on 60% of Scottish government funding for its income.
On average, about 40% of Scottish universities' income comes from the government.
Mr Russell recently announced reforms to the college and university sector aimed at providing the best opportunities for young people in post-16 education, amid tough spending cuts.
He said the reforms would see Scotland be maintained as a world leader in university research and skills, while training and learning opportunities would be given to all 16 to 19-year-olds in Scotland.
Mr Russell added: "I have made it clear that merger is not the only option - there are a number of options that must be explored and at no time has anyone said they must merge.
"The timescales involved are driven solely by the need for Abertay to move in a reasonable time to allow the appointment of a new principal. It is only sensible that the institution considers its strategic future before that decision is taken."
The Scottish government is also working towards delivering a minimum income of £7,000 to those in post-16 education.