Senior Labour figure makes Scots candidates warning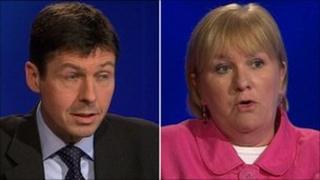 A senior Labour figure has suggested that the party will be "looking over the precipice" if it votes for two of the three candidates expected to run for the position of Scottish leader.
A member of the party's ruling Scottish executive, speaking to the BBC, has claimed that Johann Lamont, who is deputy leader, was "partly culpable" for Labour's disastrous election result in May
The source, who was speaking on condition of anonymity, also dismissed Ken Macintosh as having "never put a feather on the front bench".
The executive member said the election of Scottish leader could be "catastrophic" if the right leader is not selected because otherwise "Alex Salmond could win the independence referendum".
The person added: "The Scottish Party just doesn't seem to have grasped that and will be looking over the precipice if it doesn't get it soon."
The source, like some others at the Labour Party conference in Liverpool, still hopes a big hitter will enter the race to be Scottish Labour leader, but otherwise suggests third candidate, Tom Harris, is the "only one capable" of leading that campaign and giving the Scottish party direction.
But the Glasgow South MP said the source's comments did not reflect his view.
Mr Harris said: "I genuinely think either Ken or Johann would make a fine leader. I don't want any of my supporters attacking people."
Mr MacIntosh said he "wasn't interested" in responding to people who were not willing to be named. But he added that he was "confident" of winning the leadership race and was "more than happy" in his own abilities.
Ms Lamont has so far been unavailable for comment.
'Great strengths'
Anas Sarwar, who is standing for the deputy leader post, said the source was wrong.
He said Ms Lamont and Mr McIntosh "both had great strengths".
The remarks appear to highlight growing concern that the right figure has not yet put his or her name forward yet.
Some want a former cabinet minister, like Jim Murphy or Douglas Alexander, to stand for the post, but neither has shown any likelihood of doing so.
There is much greater nervousness among delegates at conference today than there was earlier in the week - the result, perhaps, of an opinion poll in today's Independent which suggests Labour is trailing the Tories by a point.
The poll will also make unpleasant reading for the UK leader Ed Miliband, over his low personal poll ratings, particularly in Scotland.
But the SEC member said that unless Mr Miliband came up with a speech "less vacuous" than media reports suggested earlier, then he could face a challenge for the position within a year.
But Mr Miliband's parliamentary aide, Anne McGuire MP, has dismissed that talk.
She said: "Ed is much stronger than many people think. He knows where he wants to take the party."