Employers see minimum wage as 'optional', charity warns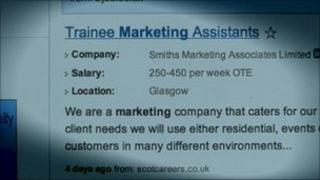 A leading Scottish charity has called for action to enforce the minimum wage.
A survey by Citizens Advice Scotland (CAS) showed many workers were being exploited by employers ignoring the law.
More than half of its advisors (53%) said avoidance of the rate was a problem in their area.
CAS said all political parties supported the minimum wage, but some employers appeared to believe the law was optional.
The organisation has published a number of examples reported by local Citizens Advice Bureaux (CAB) across Scotland.
They include a 16-year-old receiving just £2 an hour for a 38-hour week in a hairdressing salon.
Lucy McTernan, CAS chief executive, said: "We're finding actually in some cases people are being paid nothing at all and that the legislation is being exploited to a degree."
The issue has been highlighted by a BBC Scotland TV documentary Low Pay Nation.
Undercover work
It details a number of case studies, including that of Matthew Parkes, who worked for Glasgow-based Smiths Marketing Associates, a company which specialises in direct sales, and recruits mainly young people.
Its clients include companies like Talk Talk and charities such as British Red Cross.
An undercover BBC researcher, who was employed by the company, was told he would be paid a wage - in fact his earnings were purely based on commission, meaning if he made no sales he would receive no pay.
Mr Parkes told the programme: "I worked about 70 hours in a week and earned around about £200, and I think that was about average for the office."
At the current minimum wage of £5.93 an hour for an adult, he should have been paid £415.10.
The BBC investigation uncovered other tactics used by employers to pay less than the legal minimum.
They included underpaying care workers on "sleepover" shifts where they spent the night with a vulnerable adult client.
One worker, who asked to remain anonymous, said it was a common feature of the care sector.
"You get a one-off payment, and on average in the care industry, it's between £20 and £26 you get for the sleepover period from 10.30 to 7am," he said.
That equates to approximately £3 an hour - about half the minimum wage, and workers are not paid for any disturbance which lasts for less than an hour.
The worker said: "If your service user wakens up at midnight and you manage to get it dealt with within 10 minutes, you don't get any payment for that."
He added: "If you do three sleepovers a week, as I was doing, I was away from home 63 hours and got paid for 39."
Young workers
Ms McTernan said the issue particularly affected migrant and young workers.
"Young people getting into the labour market are very keen and determined to get a job," she said.
"What we're worried about though, is they're doing so in an ill-informed manner and aren't educated about their rights as well as their responsibilities, and are finding themselves vulnerable to exploitation."
CAS is calling for a Fair Employment Commission to address unfair employment practices, in particular to ensure nobody is excluded from the right to a fair and legal wage.
BBC Scotland Investigates: Low Pay Nation is broadcast on BBC One Scotland at 22:35. You can watch it again on the iPlayer.