Heart patients not getting 'most appropriate' drugs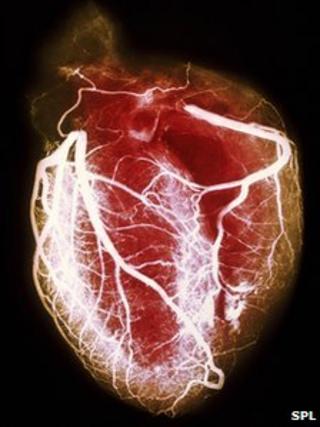 More than half of heart patients in Scotland at high risk of stroke are not receiving the most appropriate treatment, according to a new report.
Scrutiny body Healthcare Improvement Scotland has published the "most comprehensive picture yet" of cardiology services across the country.
It found 53% of patients who should be getting a blood thinning drug were not.
Meanwhile low-risk patients are being given more powerful medication when they should just be taking aspirin.
The report paints an in-depth picture of the strengths and weaknesses of heart disease services in Scotland, and includes detailed plans for how improvements to services can be made.
Cardiovascular disease is the leading cause of death in the UK and coronary heart disease results in nearly 10,000 deaths every year in Scotland.
The report raised concerns about treatments prescribed to people with atrial fibrillation, a common heart rhythm disorder with a high risk of stroke.
While nearly 80% of people with this diagnosis receive some form of blood-thinning drug, less than half (47%) of higher risk patients are receiving the most appropriate treatment, Warfarin.
At the same time 31% of low-risk patients, who should be treated with aspirin alone, are receiving a blood-thinning drug which exposes them unnecessarily to a higher risk of bleeding complications.
Vital services
Dr Martin Denvir, clinical lead for the heart disease improvement programme, said: "Within three years of starting this improvement programme we are now publishing a groundbreaking report which sets out in detail just what has been achieved in Scotland - and what is still to be done.
"This is the most comprehensive picture yet of heart disease services in Scotland.
"The journey towards perfect care for all patients is by no means over, but our findings clearly identify what is already being done well, what needs improvement and how we can measure our improvement and progress towards best quality of care."
The report also found that although all health boards have risk assessment programmes in place to identify people at high risk of heart disease and stroke, these programmes are not provided comprehensively for all high-risk groups in the general population.
It also said the Scottish Ambulance Service provides a well-trained and rapid response to emergency calls and reaches 71% of patients with suspected heart disease within eight minutes.
The report makes a number of key recommendations to improve patient care, including a review of the prescribing of blood-thinning drugs.
It said patients at low risk of stroke should not routinely be prescribed Warfarin.
Andy Carver from the British Heart Foundation (BHF) welcomed the report and said: "It is an important step in improving the accountability of NHS boards for the delivery of vital services for heart patients.
"We will continue to watch closely and help ensure that these standards are implemented to help people prevent heart disease and make sure services for heart patients are the best possible in all parts of the country."
Chest Heart & Stroke Scotland's chief executive David Clark said "We recognise that there has been real progress as a result of the Heart Disease Improvement Programme and that Scotland has some world-class centres for the treatment of heart disease.
"However, we also have to recognise that there is some way to go until every patient has the correct treatment every time."