Rare paintings sell for more than £100,000 at auction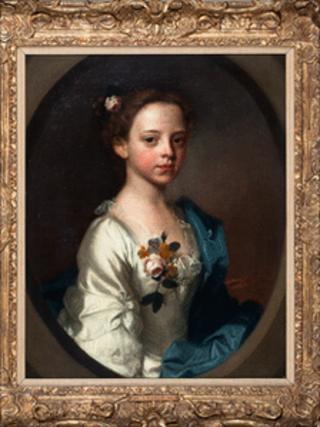 Three rare works of art left to a secretary by her deceased employer have sold at auction for more than £100,000.
The anonymous seller, now in her 90s, worked for businessman Charles Hepburn from 1936 until his death in 1971.
In his will, he left her a painting by 20th Century English artist Sir Alfred Munnings, and another by Allan Ramsay - an 18th Century portrait painter.
He had said the gifts were a token of his gratitude towards his secretary.
In his will he said they showed his "heartfelt appreciation" of her lifetime of loving care and attention.
The paintings were bought for a total cost of £119,000.
'Quite remarkable'
Munnings' 24x20 inch oil on canvas, Zennor Hill, shows a horse and hounds in a traditional English hunt setting and sold for £90,000 to a buyer from America.
The Ramsay oil canvass shows the Honourable Rachel Hamilton and sold for £16,000.
The auction also saw the watercolour, Ripples and Laughter by Scottish artist Sir William Russell Flint, sell for £13,000.
Brian Clements, managing director at McTear's Auctioneers, said: "This was a quite remarkable and generous gesture by Charles Hepburn as Sir Alfred Munnings, Allan Ramsay and Sir William Russell Flint are all extremely influential artists.
''There was a lot of interest in the sale and we are delighted with the prices made by all the paintings."