BBC Scotland pledges not to axe River City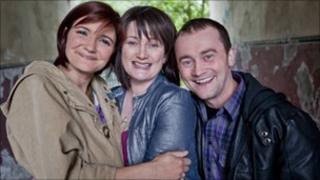 The head of BBC Scotland has told staff that there are no plans to cut its weekly drama show River City.
Director Ken MacQuarrie said he could make it "absolutely clear" that there was no proposal to axe the show, which attracts 500,000 viewers.
He made the pledge during a question and answer session involving BBC Trust chairman Lord Patten.
The corporation has to make 16% savings across its output and there had been rumours that River City would go.
But Mr MacQuarrie said: "We have no plans to cut River City, I can make that absolutely clear."
Earlier, Lord Patten had told BBC Radio Scotland that newspaper speculation about the show being dropped was "far-fetched".
The former Tory MP will be in Scotland for the next two days discussing savings with fellow BBC Trust members.
The corporation is having its budget slashed by a fifth over the next four years, partly as a result of the licence fee being frozen.
In an interview on Good Morning Scotland, Lord Patten said that programmes made initially for a Scottish audience would be "seen by audiences elsewhere".
He added: "I very much hope that we'll see more dramas being made in Scotland."
Lord Patten told presenter Gary Robertson: "I couldn't have spent any time looking at the papers without realising that River City is extremely popular and the BBC should be very pleased it makes programmes as popular as that.
"I am sure people will have noticed the reaction to some of the slightly far-fetched suggestions about what might happen to it."
When asked if he believed newspaper speculation would prove not to be correct, the former governor of Hong Kong said: "I think that is absolutely true."
River City is broadcast weekly on BBC One Scotland and follows the residents of Shieldinch, a fictional suburb of Glasgow.
It has been running since September 2002 and attracts an average of 500,000 viewers each week.
The corporation has a budget of £3.2bn and has made a commitment to finding 16% savings.
More details about where the axe will fall will emerge next month and, following a consultation process, further details will emerge at the beginning of 2012.
Lord Patten said: "We have to find as many of those savings as possible through efficiencies and I reckon we can find the savings to the tune of perhaps just over half [of savings needed].
"But we will have to withdraw from some things - not whole services, but from some areas where we won't be able to spend as much money. We will have to focus on the things we do best."
He added: "The BBC is almost certainly the best broadcaster in the world - you only have to talk to people in other countries to learn that."
Lord Patten said that the best of the BBC would be retained but "some of the luxuries we had in the past" would go.