Edinburgh Napier university sets fees at £26,000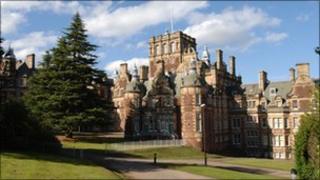 Edinburgh Napier University has fixed fees of up to £26,000 for students from the rest of the UK (RUK).
Annual fees were set at £6,500 for all full-time undergraduate courses.
Each student will be charged proportionately to the amount of tuition he or she receives, a structure the university described as "straightforward".
The university has experienced an 80% rise in undergraduate applications over the last two years.
The new fees will mean students paying a total of £26,000 for a four-year degree.
A new bursary scheme, exclusively for students from outside Scotland, will be launched from 2012/13.
The scheme, which is based on household income, comprises of two elements.
Students with a Residual Household Income (RHI) of £25,000 or less would be eligible for a bursary of £2,000 each year for a maximum of four years.
Those with an RHI between £25,001 and £42,600 would be eligible for a bursary of £1,000 each year for a maximum of four years.
Track record
Professor Dame Joan K Stringer, Principal and Vice-Chancellor of Edinburgh Napier University said: "The prospective students and their parents we consulted made it clear that their preference was for a straightforward fee structure which maintains the relationship between the charge and the amount of tuition received.
"Committing to a new bursary scheme for rest-of-UK students is also consistent with our strong track record of widening access, and will help ensure that increased fees do not act as a deterrent to all those that can benefit from a university education.
"At Edinburgh Napier we have long welcomed students from all over the world and from all backgrounds, and are proud of our reputation for graduate employability, which is among the best in Scotland.
"We are committed to providing the very best student experience we can, something our £100m estate strategy is helping achieve through the development of state-of-the-art facilities such as our new Sighthill Campus."