Theresa May's diary left at Glasgow police event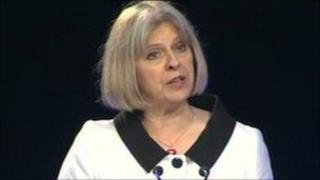 A printout of the home secretary's weekly engagements was left at an event in Glasgow, the Home Office confirmed.
It contained detailed information on Theresa May's plans and mobile numbers of staff and people she was visiting.
A reporter for the magazine Police Review found the document at the National Police Memorial Day at Glasgow's Concert Halls on Sunday.
The incident is being viewed by officials as an "embarrassment" rather than a major security breach.
The five-page A4 document is circulated every week to officials and detectives.
It is understood that the document was mislaid by one of Mrs May's protection team.
According to the diary, she was to meet senior police officers and attend the National Security Council at Downing Street.
The document also included details of the Maidenhead MP's engagements in her Berkshire constituency, such as trips to the gym and a charity cabaret.
A Scotland Yard spokesman said: "We are aware that a document was misplaced and are looking into the circumstances of how this occurred.
"The paper was not protectively marked. Security was not compromised."
Keith Vaz, Labour chairman of the Commons Home Affairs Select Committee, said: "It's serious that someone with the security importance of the home secretary should have her security compromised in this way.
"It is very disappointing that this has happened."