Firefighters join Ryan Ferguson bone marrow appeal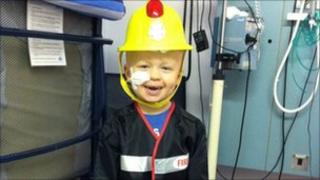 Strathclyde Fire and Rescue Service has joined the appeal for a bone marrow donation to help save a little boy's life.
Three-year old Ryan Ferguson, from East Kilbride, was diagnosed with leukaemia in August.
He has since been admitted to hospital and is waiting for a compatible bone marrow donor.
Firefighters have helped arrange a donor recruitment event at a hotel in the town next weekend.
Ryan is undergoing chemotherapy and has been in isolation for almost four weeks.
'Very poorly'
Stuart Ferguson, Ryan's father, said: "People don't realise how simple it is to register as a bone marrow donor.
"Eighty per cent of bone marrow matches come from males who are aged between 18 and 30, yet only 12% of males are registered.
"Ryan is very poorly at the moment and has just finished his second round of chemotherapy.
"I urge anyone of this description to come down and register with the clinic. It is that easy to save a life."
Mr Ferguson said no blood samples were required, just a saliva sample donation and a short application form.
The event is being supported by Strathclyde Fire and Rescue Service commander Ally Boyle.
Mr Boyle was diagnosed with myelodysplasia in 2008. He has a 25% chance of this turning to leukaemia, leaving him also needing a marrow transplant.
He said: "I have got great sympathy for Ryan and his parents.
"We, along with the Anthony Nolan organisation, are helping to organise this event to prevent Ryan's parents from having to worry about the mechanics of the clinic.
"The whole fire service, as well as volunteers, are pulling out all the stops in order to try and save Ryan's life."
Mr Boyle added that anyone who cannot make the event can register at the Anthony Nolan organisation website and receive a home testing kit.
The Donor Recruitment Event takes place at the Holiday Inn in East Kilbride on Sunday 9 October between 10:00 - 16:00.