Queen Margaret University caps RUK fees at £27,000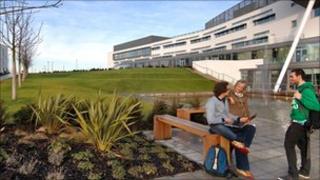 Queen Margaret University (QMU) has capped its fees for students from the rest of the UK (RUK) at £27,000.
The fee applies to students who decide to study the full four years of a Queen Margaret University honours degree programme.
Students will be charged £6,750 per year to study at QMU.
Applicants with appropriate qualifications will continue to be able to enter directly into second year for a number of courses.
These applicants would then be able complete their honours degree programme within three years.
The university said it was committed to shortening the length of time it takes to achieve qualifications.Queen Margaret University
It currently offers entry with advanced standing to a number of undergraduate programmes to applicants offering a range of qualifications, including appropriately qualified candidates with A Levels.
The university also said it was committed to ensuring that suitably qualified candidates are not deterred from investing in their education on the grounds of ability to pay.
A bursary scheme will be offered to attract and support well-qualified students from low income backgrounds.
Prof Petra Wend, principal and vice-chancellor of QMU, said: "Some 19% of Queen Margaret University students are from RUK, and we value sincerely the significant contribution that RUK students make to our vibrant learning community.
''Queen Margaret University offers a thoroughly relevant, high quality student experience reflected by our 92% graduate employment rate.
''When setting indicative RUK fees and bursaries, we have balanced the need to cover the costs of tuition with a commitment to continue to be attractive to RUK students, whatever their financial circumstances."
Robin Parker, NUS Scotland president, said: "We are opposed to any tuition fees, but by setting their degree costs at £27,000 QMU have matched some of the worst excesses of the English tuition fee system.
''This decision means that degrees at QMU will cost students from the rest of the UK even more than if they choose to go to competitor institutions like Glasgow Caledonian, RGU or Napier.
''Unbelievably this puts the cost of degrees at QMU higher than even at Oxford and Cambridge.
"This decision, like most of the others in Scotland, is entirely without the restraint the Scottish government called for.
''Principals were trusted to use the power to set fees with care, but instead they're risking closing the door to thousands of students from the rest of the UK.''
Michael Breckenridge, Queen Margaret University's students' union president, said: "We are opposed overall to the introduction of tuition fees in Scotland for RUK students.
''However, we recognise that from a pragmatic perspective the university has had to address this.
''Queen Margaret University has set a fee below the maximum level and is looking at ways of minimising the cost to individual RUK students, for example through second year entry.''