Marchers protest in Glasgow over public sector cuts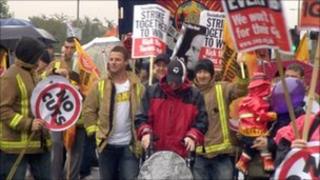 A march has been held in Glasgow to protest against government cuts.
Politicians, trades unions and faith groups took part in the People First Rally, which set off from Glasgow Green and ended in Kelvingrove Park.
The Scottish Trades Union Congress, who organised the event, said thousands of people had braved the rain to attend.
The marchers are angry at public sector cuts to jobs and services and the impact these may have on local communities.
Former Labour minister and veteran campaigner Tony Benn was among those who addressed the marchers.
'Devastating cuts'
STUC general secretary Grahame Smith said: "We have been joined by thousands of people from all over Scotland and from its diverse communities for the People First Demonstration today.
"First and foremost this sends a clear message to the coalition government and Tory Party conference that we need a Plan B now to avoid recession, rising poverty and damaging cuts in services.
"But it also says to politicians of all parties civic society will come together to ensure that policies at all levels of government serve the purpose of redistributing wealth and protecting those hit by cuts in services."
Robin Parker, president of NUS Scotland, was among those who gave a speech at the rally.
He said: "It is impossible to ignore the effects that public sector cuts are having to our communities, just as it is impossible to ignore the devastating cuts to college budgets and the effect £9,000 fees will have on students from the rest of the UK."
John Dickie, of the Child Poverty Action Group, which was among the organisations sponsoring the march, said: "If we are serious about ending child poverty parents need jobs that pay a living wage, affordable childcare and more hours of free nursery education, decent benefits in and out of work and the advice to ensure they get the financial support they are entitled to.
"People First is a chance to demonstrate support for the action needed to redistribute Scotland's still massive wealth so that no child is left behind."