Scottish Book Trust sets up 'online reading club'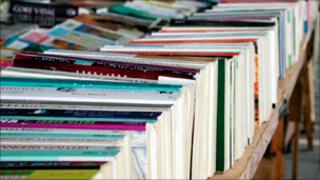 Book clubs may seem like a very modern phenomenon - but many people, among them author Rachel Jacobsohn, believe they can be traced right back to the 1720s.
Long before Oprah and Richard and Judy dictated our literary leanings, ladies gathered to drink tea and talk books.
Men had been doing it for a while but the ladies realised they could expand beyond their sewing circles and church groups - to debate the issues of the day.
Today, reading groups are as much about the social side of things, as great recommendations.
And while the newest book group in Scotland can't promise a glass of wine or a houseful of new friends, it does have the potential to spark a lively debate in what could be the country's largest book group.
Book Talk is the brainchild of the Scottish Book Trust, and I should state an interest.
Along with school librarian Rachel McCabe, I feature in the first Book Talk podcast, which it's hoped will kickstart a lot more talking about books.
The book in question was Rebecca Makkai's debut novel The Borrower, in which a small town librarian called Lucy "borrows" a child and takes him on a road trip, ostensibly to rescue him from the anti-gay classes his fundamentalist Christian parents want him to attend.
I found it a riveting read - made all the more entertaining by the fact the whole story is seen through the prism of children's literature (spot the references to Charlotte's Web, the BFG and The Wizard of Oz).
I suspect where it will divide readers is in the one dimensional depiction of the aforementioned fundamentalist parents, who're nothing more than comedy baddies in the background. The prologue also suggests a far more sinister read than the one that lies ahead.
All in all though, it was an entertaining read. The one downside? I'm desperate to know what everyone else thinks about it.
Hopefully members of the country's newest book group will soon put that right.
A podcast discussion based around The Borrower will be available on the Scottish Book Trust Book Talk website from 3 October.