Scottish economy 'remains sluggish'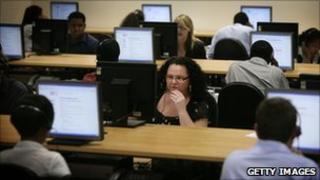 Scotland's economy is continuing along a route of sluggish recovery, according to the latest figures.
For the three months to August, 34% of firms surveyed increased turnover, 32% said it remained the same, while 34% experienced a fall in business.
The Lloyds TSB Scotland Business Monitor suggests this an improvement on the situation a year ago.
However, companies are much more gloomy about their prospects for the next six months than in more recent surveys.
The survey found a total of 31% of firms believed their turnover was likely to fall in the months ahead.
Donald MacRae, chief economist at Lloyds TSB Scotland, said: "This latest Business Monitor suggests the private sector of the Scottish economy showed marginal growth in the first eight months of the year.
"There is no definite sign of a lapse into a 'double dip' but every indication of a protracted, slow and moderate recovery with the possibility of a fall in output in some quarters.
"In the face of slowing global demand, falling business and consumer confidence in the UK and cuts in government spending, the Scottish economy is showing resilience."
He added: "Prospects for more robust growth remain muted. A more vigorous recovery awaits an uplift in both consumer and business confidence."
'Financial uncertainty'
Meanwhile, a CBI/PwC survey of the UK financial services sector found the pace of growth continued to slow in the three months to September.
Stephanie Bruce, head of financial services at PwC in Scotland, said: "The health of the financial services industry has a major impact in Scotland - and in particular, Edinburgh - where the sector is a significant driver of the local economy, and uncertainty in terms of eurozone contagion and global debt markets combined with continued concern over the level of regulation will most certainly be key factors for organisations.
"The heightened level of uncertainty in the financial markets is undoubtedly impacting both financial results and confidence."
Ms Bruce said this uncertainty could also impact on key projects, IT spend and resources.
However, the report was welcomed by Finance Secretary John Swinney.
He said: "Scottish businesses are the primary driver of sustainable economic growth and our ability to succeed as a nation depends on the competitiveness and success of our businesses.
"This report suggests that our actions to strengthen Scotland's recovery are working, with evidence showing an acceleration in export activity and marginal growth in the private sector."
He added: "News that Scotland's economy is continuing to recover is supported by the latest labour market statistics, which reported a fall of 33,000 in unemployment in Scotland over the year, compared to a rise of 44,000 in the UK over the same period.
"However, there can be absolutely no room for complacency."