Squirrel census aims to help NTS survival plan for reds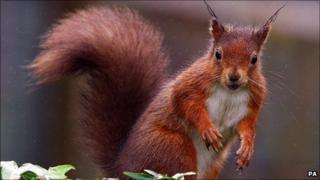 A census of squirrels is to be carried out on all the land owned by the National Trust for Scotland (NTS).
News of the study comes as the organisation publishes a plan to help ensure the survival of red squirrels on its properties.
There are two million grey squirrels in the UK and only about 140,000 native red squirrels, mostly in Scotland.
The NTS said it had incomplete data on squirrel numbers and the survey would help direct its survival action plan.
Grey squirrels, which were introduced to Britain, out-compete reds and infect them with a lethal pox.
In recent years landowners and conservation bodies have intervened to even up the fight, using controversial measures such as trapping and humanely killing greys.
The NTS said in its action plan that it had no information about the populations of any squirrels - grey or red - on 22 of its 109 properties.
The trust said that even where rangers had been collecting information, the results so far had not been comprehensive enough to be useful.
Now it plans a survey across all the land it owns and has pledged to play a full part in strategies to conserve red squirrels.