Bord na Gaidhlig wants Gaelic education numbers to rise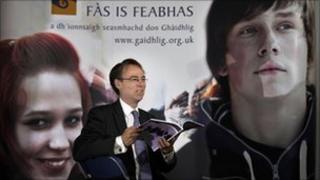 Ministers are being urged to double the number of children entering Gaelic-medium education each year.
The proposal is part of a draft five-year plan aimed at reversing the decline in the language.
Government agency Bord na Gaidhlig wants to see the number going into Gaelic primary one classes double from the present level of 400 children.
It credits the classes with stemming the decline in the number of speakers over the past 20 years.
And it believes the children have benefited in a general sense, as research indicates bilingualism stimulates the brain making it easier to learn a broad range of subjects.
Staff in Gaelic-medium education units speak the language as they teach children everything they would learn in an ordinary primary school.
The Gaelic agency said fewer than 1% of young Scots are becoming fluent by speaking in Gaelic much of the school day.
That compares with 7% in bilingual education in Ireland and 21% in Wales.
'Positive for children'
A public consultation plan on how to increase the numbers of Gaelic speakers has been launched by the learning and skills minister Alasdair Allan.
Education Secretary Mike Russell said he would be looking into how to grow the languages of Gaelic and Scots and how to maintain the quality of them.
He added: "Certainly Gaelic-medium education in schools is very productive, we know from research it is very positive for children.
"We also have to create a new generation of adult Gaelic speakers because we are losing 1,000 Gaelic speakers a year who are older people who die. We are not replacing them at that rate, although the rate has slowed."
Mr Russell said that "Gaelic and Scots are ours", if they were allowed to die then it would "be our responsibility".