Disabled golfers in Scotland-England clash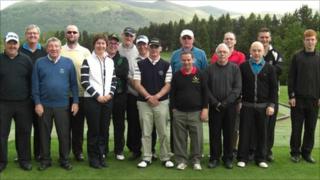 Golfers who are blind, amputees, or were the victims of strokes are to take part in a new competition.
The inaugural Auld Enemies Cup match between Scotland and England will be held at Slaley Hall Resort in Northumberland and starts on Friday.
Jim Gales, 47, from Fife, will captain Scotland and Graeme Robertson, 48, from Berkshire, will captain England.
The Scottish team also has golfers from Aberdeen, Edinburgh, Glasgow, Glenrothes and Tayport.
Scottish Disability Golf Partnership has organised the three-day event.
The group's members and operators are disabled people.
It helps people with Downs syndrome, people with learning difficulties, accident victims and wheelchair users to learn and play golf.