Fergus Muirhead answers your consumer questions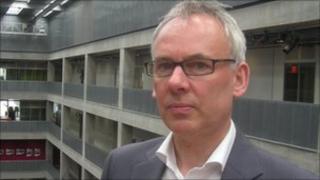 I'm Fergus Muirhead and I'm here to answer any questions you may have about any money or consumer issues.
Please drop me a line here at fergus@bbc.co.uk with your questions.
You can also read more on money and consumer issues on my own blog.
Q: I wonder if you can give me some advice. I have tried to look on the government tax site but can't find an answer. My dad was widowed two years ago. He sold their little flat and moved into rented accommodation to be near to my sister. Once everything was settled with the sale he had 60K left. He wrote his will and put 15k into a building society account for each of his three children (45K in total). He felt he could live happily on the remaining 15K as he also has a good pension. He now wants to give us a gift of the money now rather than wait until he dies arguing that we could all do with the money now. This is certainly the case as it would be with most people! Is he able to do this generous thing for us without us getting into to trouble with the taxman? He has no other assets and if he was to get to the point he could no longer live on his own any of the three of us would happily take him in as we all love him very much. Christine Sewell
A: I think that your dad could give each of you the £15k that he has earmarked for you now without getting into any trouble with the taxman, since his estate is going to fall below any inheritance tax threshold and there won't, therefore, be any liability for inheritance tax based on what you have told me. The only problem I could foresee is that if your dad needs to move into long-term care at some point in the future then the local authority dealing with his case may want to argue that he only gave you the money to "deliberately deprive" the local authority of it when asking him to pay for his care and you may have to have that debate with them at some point and be prepared for an argument. The worst case scenario is that you and your siblings may have to use some of the money he is going to give you to help pay for his care if that is what is decided.
Q: I've just had meeting with my bank (RBS) and been offered Critical Illness Cover (£21pm) and Income Protection insurance (£31pm). Can you give me any more info to help me decide on best course of action to take? What are the pros and cons and what should I look out for? Murdo
A: The main difference is that critical illness cover will pay out a lump sum if you are diagnosed as suffering from a range of serious illnesses that should include cancer, heart attack and stroke. Income protection on the other hand will pay out a proportion of your income if you are unable to work without necessarily suffering a "serious" illness. So a sore back may keep you off work and would trigger an income protection claim but would not mean a pay-out on your critical illness policy. In an ideal world you would want to have some of each but that can get expensive and so you need to consider your own circumstances and decide which is more important for you. It could be for example, that your employer will pay you for the first six months, or even a year, that you are off sick and in that case you might decide that you should use your own money to buy critical illness cover.
Q: I am writing to you for some information on critical illness insurance. I am about to move into a new home and as a first time buyer I was advised to get this cover. I am 26, and have type 1 diabetes. I exercise in the gym 5/6 times a week and train as a mixed martial artist. I am in excellent physical condition but have the occasional hypo as a result of training. Iain Kirkpatrick
A: I have spoken to a few insurance companies about this and I think you will find that most of the mainstream insurers will decline your application for critical illness cover. The problem is not so much the diabetes itself, more that diabetes can lead in later life to higher instances of heart disease or other illnesses such as glaucoma that may trigger critical illness claims and hence there is a higher chance that you will have to make a claim in the future. Having said that it may be that if you apply for a shorter term policy rather than one to cover the whole term of your mortgage you might have more luck. There are also specialist insurers out there, perhaps through a Lloyds of London syndicate that might be able to help, and it may be worth speaking to some of the organisations that have experience on dealing with people with diabetes since they should have access to these specialist insurers.
Q: As an investor in the stock market, I was wondering if you could enlighten me on the following. If I should be fortunate to have a substantial return from selling shares, that has me liable to pay CGT, would this windfall leave me liable to pay extra tax on my income as well, or are these taxes completely separate. I am a basic rate tax payer. Bill Kinnear
A: Any gains you make when buying and selling shares are chargeable to Capital Gains Tax and not to income tax. Any income or gains that you make should be taxed only once so with income that you earn it is taxed through the income tax system and gains made on the sale of shares are taxed as capital gains. You will only have to pay Capital Gains Tax in a year if your gain is greater than you annual allowance, which for tax year 2011/12 is £10,600. As a basic rate taxpayer you will pay tax on any gains over this allowance at a rate of 18%, unless these gains take you into a higher rate tax band in which case you will pay tax at 28%.