Domestic abuse against men rises in Scotland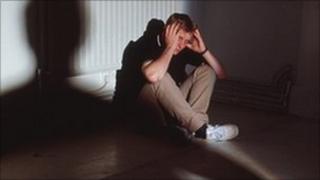 The number of domestic abuse incidents with men as victims increased by 11% in the past year, a new study has said.
The statistics published by AMIS (Abused Men in Scotland) took figures from the eight Scottish police forces.
The increase to 9,648 was the 11th successive year the figure had risen, the data suggested.
AMIS said more than one in six of recorded victims was male yet there were virtually no support services in Scotland.
The AMIS figures, which were gathered by freedom of information requests, included all male victims of domestic abuse recorded by police whether from heterosexual or same-sex relationships.
The proportion of male victims varied between force areas, with Dumfries and Galloway the lowest at 12.02% and Strathclyde the highest at 20.59%.
'Whole picture'
AMIS secretary Alison Waugh said: "Government spokespeople repeatedly state that they take all domestic abuse seriously but that is hard to square with the reality.
"In 11 successive years, in which the number of male victims has increased, there has still not been a single campaign specifically directed at men and their children giving them confidence to report and standing unequivocally with them."
Ms Waugh added: "Some people will say the figures are going up because more men are coming forward to report.
"Others, that more women are being violent and abusive. No one really knows.
"Whatever lies behind the figures we know that many public services are uncomfortable when they encounter men who suffer domestic abuse.
"We can help them take into account the whole picture."