Arrests and drug seizures in sting on organised crime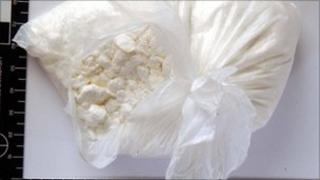 Six people have been arrested and cocaine and heroin with a street value of about £1.2m seized in a sting on organised crime.
Three men aged 26, 47 and 31 and three women aged 33, 30 and 17, were arrested and charged.
The operation involved detectives from Lothian and Borders Police and Dumfries and Galloway Constabulary, assisted by the Scottish Prison Service.
The operation was also carried out in the Merseyside area.
About £32,000 in cash was also seized.
Police gathered intelligence between September 2010 and June 2011 and monitored the activities of prisoners suspected of organising crime from behind bars.
Money laundering
Det Ch Insp Sean Scott, of Lothian and Borders Police, said: "We are delighted to have recovered such high volumes of Class A drugs and large sums of cash and we will continue to work alongside our partners to further dismantle criminal organisations, which blight our communities.
"Tackling the activities of organised crime groups is a priority for Lothian and Borders Police and through partnership working with colleagues in Dumfries and Galloway and the Scottish Prison Service we identified various individuals responsible for drug and money laundering offences.
"These offences, which occurred within the Lothians, Dumfries and Galloway and Merseyside areas, were also linked to individuals currently serving prison sentences and so the assistance of the SPS was vital in gathering intelligence."