Scotland's councils get empty house powers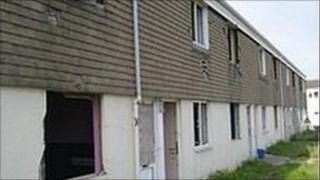 New powers could help councils bring some of Scotland's thousands of empty homes back into use.
Councils are now able to access information on empty homes through council tax records and make direct contact with the owners.
Earlier this year the Scottish Empty Homes Partnership said 23,000 private homes were lying empty in Scotland.
Housing charity Shelter Scotland said there were more than 156,000 households on waiting lists for a home.
Kristen Miller, Shelter Scotland's empty homes co-ordinator, described the new powers, which are part of the Housing (Scotland) Act of 2010, as a "step in the right direction.
She said: "There are many reasons why a home might be left empty.
"Sometimes the property won't sell or cannot be let, owners can have sentimental attachment to it or they simply don't have the finances, the time or the skills to complete their plans for the property.
"Whatever the reason, identifying empty properties and engaging with owners is the first step for local authorities to work with owners and help them to bring empty homes back in to use."
She urged councils to make the most of the new powers and do all they can to utilise the houses they already have in their communities.