Canoeist dies after three-hour search in Firth of Forth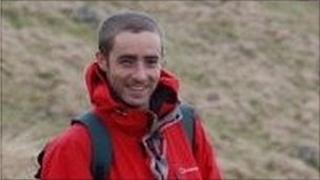 An Edinburgh canoeist has died after a three-hour rescue search of the Firth of Forth, north of the capital.
Michael Tattersall, 29, from West Granton Road, was found at 01:00 and flown to hospital where he died.
Forth coastguard was alerted by police at 22:30 on Sunday after a caller said two canoeists and two swimmers were in difficulty near Granton.
The swimmers made it ashore and one canoeist was found just before 23:00, after a search of the coastline.
Mr Tattersall was said to have been unconscious and suffering from hypothermia when he was found.
The other people involved are believed to be men aged in their 30s.
Witness Michael Lindsay, 32, a council worker from Muirhouse, said: "There were a lot of people from the emergency services when I arrived at the scene at about 23:45.
"There was a helicopter flying overhead back and forth and I could see the people wrapped up in silver blankets in the back of the ambulances.
"A lot of people watching said it was cold so the people who were in the water must have been freezing."
Forth watch officer Simon Ward, said: "We're not sure how this group got in to difficulty but it is a timely reminder that, as well as wearing the buoyancy aids recommended by their sport's governing body, canoeists should carry hand held vhf, flares and a charged mobile phone.
"That way you can call for help as soon as you need it."