RMT meets transport minister to discuss ferry services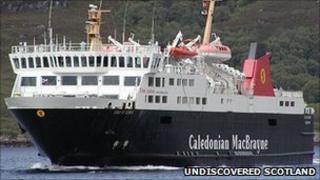 Union leaders have met with Transport Minister Keith Brown to seek assurances on the future of lifeline ferry services in Scotland.
The RMT has raised concerns that routes may be "broken up" with private operators able to "cherry pick" the most lucrative ones.
The Scottish government is conducting a review of how ferry services are funded and procured and how fares are set.
A public consultation on the issue was held last year.
The RMT said it was most concerned about the threat of tendering individual routes currently part of the Clyde and Hebrides network.
It said such a move was likely to lead to the loss of the service by the part-publicly owned operator, Caledonian MacBrayne.
RMT general secretary Bob Crowe said: "We have held a series of well attended meetings in the areas likely to be affected by the Scottish Ferries Review and the message that has come back loud and clear from that extensive consultation is that the public do not want their lifeline services broken apart and the lucrative routes flogged off at the expense of the rest.
"Any Scottish politician who embarked on such a programme would be on a political suicide mission."
Draft plan
The union's national secretary Steve Todd added: "RMT will be taking a very clear message to the Scottish Transport Minister that the lifeline ferries service must not fall victim to a dash for fragmentation and cherry picking at the expense of the comprehensive and high quality service currently provided."
Transport Scotland said the Scottish government remained ‬committed to supporting Scotland's ferry services and welcomed the "valuable contribution" from the unions.
Speaking after the meeting, Transport Minister Keith Brown said: "Today's discussions with the unions were productive and covered a number of issues which will help us to refine our options further and better inform the ferries review.
"One of the issues discussed included single tendering for some of the lifeline ferry services.
"This option has the potential to deliver those services more cost effectively and free up money which can be invested on other areas of the ferries network including new ferries, extra services and new and refurbished harbours."
‪A draft plan for Scotland's ferry services is expected to be issued before Christmas.‬‪