Two charged over petrol bomb attack in Dunfermline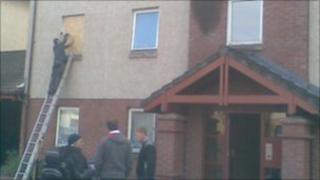 Two men have been charged in connection with a petrol bomb attack on a house in Fife.
The petrol bomb exploded as it hit the window of the property in Clay Acres Court, Dunfermline.
One man was taken to hospital with cuts to his arm following the incident which happened at about 06:15.
A spokesman for Fife Constabulary said two local men, aged 20 and 25, had been arrested and were expected to appear at Dunfermline Sheriff Court on Wednesday.
The fire did not take hold and caused no damage.
The injured man, an 18-year-old, was understood to have been sleeping in another flat in the block and smashed a window in panic when alerted to the fire.