John Swinney makes webcast date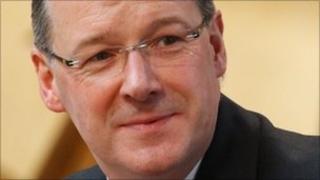 Finance Secretary John Swinney will answer questions submitted by members of the public in a special online interview at the SNP conference.
BBC Scotland's political editor Brian Taylor will quiz the SNP MSP during the half-hour webcast from 10:00 to 10:30 on Friday, 21 October.
If you have a question, submit it by using the form below.
You can watch the webcast live by going to the BBC Scotland news website at www.bbc.co.uk/scotlandnews.
The interview will take place during the SNP annual conference in Inverness. The four-day gathering will feature debates, motions and speeches.
Unfortunately, it may not be possible to put every question submitted. The identity of the cabinet member will be confirmed nearer the time.