Passenger boost for Scottish BAA airports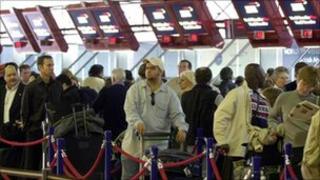 Scotland's BAA-owned airports handled more passengers last month with Edinburgh having its busiest-ever September, said the operator.
Aberdeen saw an 11% rise compared with the same month in 2010, with increases of 3% at Edinburgh and Glasgow.
BAA said its Scottish airports had maintained the "solid performance" seen over the summer.
But competition chiefs say the operator, which owns six UK airports, must sell Glasgow or Edinburgh.
The rise at Aberdeen was partly put down to the Offshore Europe biannual oil conference held in the city.
At Glasgow, almost 700,000 people passed through the airport last month, while Edinburgh saw its seventh consecutive busiest month on record.
A spokesman for Edinburgh Airport said: "The continued resilience and appeal of Scotland's capital makes us confident that we will be able to see continued growth and development."
Amanda McMillan, managing director of Glasgow Airport, added: "Not since 2005 have we been able to report nine consecutive months of passenger growth and the main driver for this has been demand for international travel, particularly for our North American routes and Emirates' hugely popular daily flight to Dubai.
"A considerable number of passengers are also travelling on our European routes."
Aberdeen Airport's managing director Derek Provan said: "These figures underline the importance of Aberdeen Airport as the gateway to Europe's energy capital."
The Competition Commission has ruled BAA must sell Edinburgh or Glasgow.
The order came in the wake of an investigation into whether BAA's ownership of UK airports - which includes Heathrow and Stansted - was anti-competitive.