Lottery grants focus on at-risk young Scots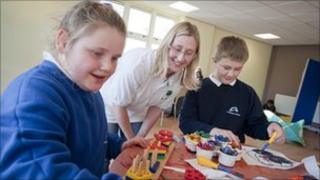 Support groups for young people in Scotland are to be awarded £2m in grants from the Big Lottery Fund.
The awards include £214,716 for Home-Start Wigtownshire in Dumfries and Galloway, which works with isolated families with children under five.
Grants also went to a national autism project, an Edinburgh initiative to support families affected by alcohol and a Midlothian employment project.
It is hoped the cash will help provide opportunities to at-risk young people.
Big Lottery Fund Scotland chair, Alison Magee, said: "Ensuring at risk young people are given the opportunities to help them to succeed in life is central to the Big Lottery Fund's mission of supporting those people in greatest need.
''It's vital that this kind of work continues and the Big Lottery Fund is delighted to fund these projects which make all the difference to so many people."
A £5000,000 award to the National Autistic Society will allow parents and carers of children with autism to be given continued support and advice.
Supporting carers
In North Edinburgh, Stepping Stones Parenting Outreach Support project who offer support to parents and children affected by alcohol abuse have been awarded £131,107.
A Midlothian support group Way2Work which supports 15 to 21 year olds with serious issues, such as physical or learning disabilities, mental health problems or criminal justice concerns will receive £478,180.
A school in West Lothian will now be able to increase its capacity for children aged between five and 18 with severe learning disabilities and autism with the help of £390,500.
The Dunfermline Advocacy Initiative (DAI) has been awarded £267,262 for its 'Younger People's Project' which hopes to improve the self esteem, social connections and decision-making abilities of 16 to 24 year olds with learning disabilities.
Young carers in Stirling will also be awarded funding. The Carers Forum who provide support to young carers in primary and secondary schools in the Stirling Council area, helping them to achieve their full potential in and out of school have received £118,836.