NEDS up for four awards in Scottish Baftas shortlist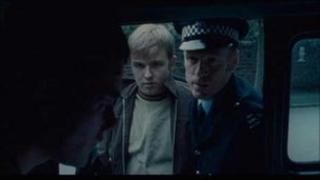 NEDS, a film telling the story of a teenage boy growing up in 1970s Scotland, has been nominated for four Scottish Baftas.
The nominations shortlist for the British Academy Scotland Awards has been published ahead of the winners being announced in November.
The awards are returning after a one year absence.
Other contenders include Perfect Sense and television programmes The Scheme, Field of Blood and Burnistoun.
The British Academy Scotland Awards honour acting, director, production and writing talent across film and television.
They aim to promote Scotland as a "beacon of creative inspiration and quality".
Conor McCarron has received a best film actor nomination for his debut role as John McGill in NEDS.
Peter Mullan is up for best writer and director and the film is also in the running in the feature film category.
Wealth of talent
Scotland's comedy dominates in the television category with nominations for Rab C Nesbitt, Limmy's Show and Burnistoun.
Controversial television documentary The Scheme received a nomination for factual series, along with The Football Years: 1974 The Golden Generation and Neil Morrissey: Care Home Kid.
Jude MacLaverty, director of Bafta Scotland, said: "The British Academy Scotland Awards demonstrate the wealth of talent we have within our country.
"Our juries have been overwhelmed by the quality and originality of the work submitted and the short-listed nominees demonstrate the innovative and original work Scotland is producing."
Field of Blood dominates the best television actor/actress award with Peter Capaldi, Jayd Johnson and Ford Kiernan all receiving accolades for their roles in the crime thriller.
James Cosmo and Brian Pettifer are also up for the best film actor/actress gong for their roles in Donkeys.
David MacKenzie received two nominations for Perfect Sense, a film which sees a chef and a scientist fall in love as an epidemic begins to rob people of their sensory perceptions.
He is in the running for best director and feature film.
The award ceremony will be held in Glasgow on 13 November.