Proceeds of crime cash given to boxing clubs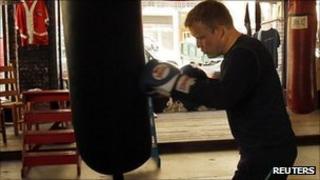 More than 100 boxing clubs across Scotland are to be given £360,000 in profits seized from criminals.
The sport will receive funding from the CashBack for Communities programme which uses money confiscated under proceeds of crime legislation.
The funding will be used to encourage young people around the country to take up the sport.
Justice Secretary Kenny MacAskill is launching the programme at an amateur boxing club in Edinburgh.
Mr MacAskill is due to meet Amateur Boxing Scotland chairman Richard Thomas, coach Mike Keane and Commonwealth Games medallist Josh Taylor, as well other young boxers.
Mr Thomas said: "The boxing gym has long been recognised as a safe haven in areas of social deprivation and the minister's and Scottish government's recognition of this and support of our vision is encouraging for both the sport and the young people of Scotland.
"A large number of boxing clubs in Scotland are found in economically deprived areas and this award will allow boxing to build on the good work already happening in many of these clubs with open and inclusive initiatives."
Mr MacAskill added: "Boxing is a great way to put young people on a positive path in life and keep kids on the straight and narrow, encouraging respect, discipline and physical fitness."
Since its launch in 2007, the Scottish government's CashBack for Communities scheme has re-invested £42m into communities affected by crime and anti-social behaviour.
The money has provided opportunities for about about 600,000 young people to take part in free activities and programmes, including football and rugby.