Disabled people protest in Edinburgh over benefit cuts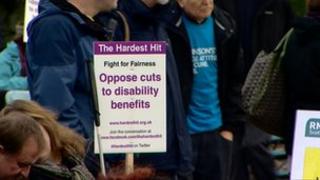 Hundreds of disabled people have gathered in Edinburgh for a mass rally against the UK government's plans to reform disability benefits.
The protest was organised by a coalition of leading Scottish charities.
They warned that up to £1bn could be slashed from the income and services people with disabilities receive over the next four years.
Similar rallies are taking place elsewhere across the UK.
Campaigners said people with disabilities or long-term conditions would be "hit hardest" by cuts to "the support they need to live their lives with dignity".
Individually, many protesters fear changes to benefits such as Disability Living Allowance and Employment and Support Allowance will significantly reduce their weekly incomes and force some people to undertake fit-for-work tests that have been widely criticised as flawed.
Disabled activist Pam Duncan, from Stirling, said "Over 47% of disabled people live in poverty already, yet we face not only benefit cuts but a double whammy of cuts to our services too.
"I'm in work but I, too, am terrified for my income.
"I stand to lose my Independent Living Fund - the very money that means that I have the support I need to get up in the morning. I stand to lose my mobility allowance as the new assessment system says that if I can get around in a wheelchair, I am mobile. And my community care charges are going up because the council doesn't have enough money to pay the care bill."
Scottish Health Secretary Nicola Sturgeon said: "It is clear that the UK Government's proposed welfare reforms will have a significant impact on a range of devolved responsibilities such as health, housing, social care, childcare, employability and services for vulnerable people.
"We have a responsibility to speak up for the vulnerable and disadvantaged members of our society.
"We all recognise that the system is broken but we need to ensure that it is reformed in a fundamentally fair way that does not simply pass responsibility on to somewhere else in the system."
Scottish Labour Leader Iain Gray said: "These flawed proposals amount to the single most significant attack on the welfare state in our generation and I am proud to address the rally.
"This is not genuine reform but a cover for those who want to cut too far, too deep.
"At the very time we see growing irresponsibility at the top of society, with massive cuts to corporation tax and banks being allowed to get away with it again, disabled people are facing the biggest attack on their rights in my lifetime.
He added: "There is a harsh streak running through these proposals meaning that the poor, the disabled, the sick and the elderly are being told that they will be hardest hit.
"I will stand shoulder to shoulder with any party or group to challenge flawed reforms which attack the very poorest members of our society."