Report shows weekend violent crime surge in Scotland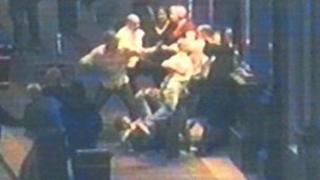 Almost 60% of all violent crime in Scotland takes place at the weekend, official figures have revealed.
And researchers said 22% of violent offences happened in or around pubs, clubs and bars.
But the survey found the risk of being the victim of any crime in Scotland fell from 19.3% in 2009/10 to 17.8% in 20010/11.
About 13,000 people were interviewed as part of the annual Scottish Crime and Justice Survey.
The statistics revealed that 57% of violent crime took place at the weekend, with 46% taking place on Saturday and Sunday between 18:00 and 06:00.
The report also underlines the link between alcohol and violent crime, with 63% of the offenders being under the influence of alcohol at the time.
But overall, researchers found that the risk of crime in Scotland was lower than in England and Wales - 17.8% compared to 21.5% - and the chances of being a victim have fallen for the second year in a row.
The number of recorded crimes also fell by 16% or 171,000 in the two years between 2008/9 and 2010/11 and those interviewed for the survey said that they felt "more positive" about the general crime rate in their area.
'Deep cuts'
Justice Secretary Kenny MacAskill said the survey got "to the heart" of how people perceived crime and felt safer in their homes.
"Scotland is becoming safer. Violent crime is down, fewer Scots are likely to become victims of crime and the risk of crime in lower in Scotland than in England and Wales," he said.
"Against the backdrop of deep cuts in public spending by successive UK governments, we have invested to create stronger communities and a safer Scotland.
"We know the statistics are moving in the right direction and we will continue to work hard to make our communities better places to live."
Other findings in the report include:
The victim reported that the offender had a knife in 11% of violent crime in 2010/11 compared with 12% in 2009/10
26% of those aged 16-24 had been a victim of crime in the last year compared with 9% of those aged 60+
Males had a higher risk of being a victim of violent crime compared with females
The risk of property crime was higher for adults living in the most deprived areas in Scotland
Victims said they were satisfied with the way the police handled the matter in 59% of crimes reported in 2010/11 compared with 57% in 2009/10