Outdoor activity voluntary code plan criticised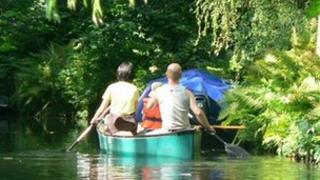 The UK government's plans to lighten regulation of outdoor activities for school pupils have been criticised by a leading adviser.
Nigel Marshall, chair of the Scottish Advisory Panel for Outdoor Education, said it was "a negative step".
Meanwhile, a teachers' union has said the attempt to cut through red tape could put lives at risk.
The UK government is consulting on plans to introduce a voluntary code of practice.
This would replace the work of the Adventure Activities Licensing Authority.
'Negative step'
The strict regulations were put in place following the deaths of four teenagers in Lyme Bay 1993. They were killed in a canoeing accident.
The instructor who led the expedition did not have the correct qualifications and failed to follow basic safety requirements such as informing the coastguard about the trip.
The work on a possible change to the law is said to be in the developmental stages and a number of options are being explored. But already teachers and outdoor industry experts have raised concerns.
Mr Marshall said: "The real concern is that the code of practice will not reassure parents.
"To abolish inspection and to do away with any sort of monitoring is a negative step and it's a position we're not comfortable with."
He added: "This is a perception thing. We really have to maintain the perception that outdoor learning is a safe thing.
"It's beneficial - it's a great thing for young people. Everybody gets so much out of it, and we want to continue with that."
'Costly litigation'
One teaching union has gone further and said that it could put children's lives at risk.
In a statement, the NASUWT said: "The drive to abolish the AALA seems to be driven more by political ideology than common sense.
"A voluntary code of practice for activity providers is simply not good enough, in the view of the NASUWT, and could endanger lives and leave schools and colleges more vulnerable to costly litigation."
A consultation process on the plans ended in September and the Health and Safety Executive said "there are significant legislative stages to go through".
In Scotland the matter is devolved and if the Scottish government is not happy with the plans, it can come up with separate proposals.
Shona Robison, the sports minister, told BBC Scotland that she was monitoring the situation closely.
She said: "Changes were brought in for a good reason and we need to make sure that whatever replaces it is as robust.
"Yes it has to be proportionate, but it has to give confidence to those users. If people don't feel confident then that could be very damaging to the sector."
The licensing system will remain in place until 2012.