Fraserburgh harbour gets EU funding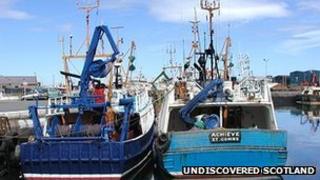 A project to deepen the harbour in the Aberdeenshire fishing town of Fraserburgh has been awarded £7.5m in European Union grants.
The European Fisheries Fund is designed to support investment in the fishing and fish processing industries.
Scottish fisheries minister Richard Lochhead said project would give access to more boats and improve facilities.
Other projects benefiting from EU cash included a new fish market in Glasgow, which was given £882,288.
Mallaig Harbour Authority was awarded £380,564 for a fish feed storage building
And Thistle Seafoods in Aberdeen was given £345,506 for additional chilled capacity.