Teaching union debates McCormac review changes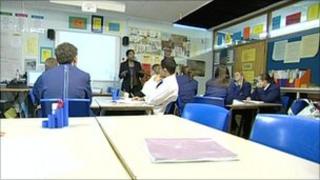 Members of the EIS teaching union are attending a special general meeting in Edinburgh to debate proposed changes to their hours and working conditions.
The recent McCormac Review commissioned by the Scottish government recommended a raft of changes to the landmark McCrone deal of a decade ago.
The McCormac review suggested it was inappropriate for professionals to have a fixed 35-hour week.
It also called for more flexibility over the duties teachers can carry out.
Stirling University principal Prof Gerry McCormac, who headed the review, suggested it was inappropriate for teachers to have lists of duties such as photocopying and filing that they could not be asked to do routinely.
Many teachers exceed the 35-hour week and perform tasks they are not required to, but they want these clauses retained in their contract to offer some protection against a potentially heavy workload.
There is also strong opposition to a recommendation that teachers should stay on the premises during the school day even if they do not have classes.
Some delegates are calling for industrial action if employers adopt the recommendations.