Red kite increase weathers storm in Scotland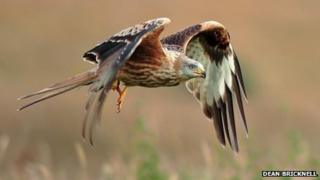 Numbers of one of Scotland's rarest birds of prey, the red kite, have increased this year despite violent storms in May and illegal poisoning.
Red kites became extinct in Scotland in the Victorian era.
But a reintroduction programme began in 1989 and the number of fledglings has reached a record high.
A report from RSPB Scotland and Scottish Natural Heritage said there were now 186 breeding pairs of red kites, an increase of 22 on last year.
A total of 314 young birds fledged.
But the storms which swept across the country in May meant many nests and eggs were lost, especially in central Scotland.
Duncan Orr-Ewing, RSPB Scotland's head of species and land management, said: "The wind came at a critical time of the breeding cycle, when the eggs were on the point of hatching or there were small young in the nests.
"Fortunately, it appears that the majority of Scotland's red kites escaped the worst of the extreme weather, and the overall population continues to grow."
Andrew Stevenson, Scottish Natural Heritage's ornithological adviser for the red kite project, said: "It is great news that red kite numbers have increased again in Scotland this year, with the population showing resilience to the exceptionally poor spring weather."
Poisoning fears
The Black Isle, north of the Moray Firth, was the site of the first red kite reintroduction programme in Scotland in 1989.
This was followed several years later by similar projects in the Stirling area, Dumfries and Galloway and Aberdeenshire.
But the number of red kites in the north of Scotland has been exceeded by the numbers of the birds now found in central Scotland and the south west.
Duncan Orr-Ewing said: "It is clear that in the north of Scotland illegal poisoning is stopping the spread of this spectacular species.
"We're committed to working with the majority of responsible landowners to help solve this problem, which affects not only red kites but other vulnerable wildlife as well."
In 2010, there were seven confirmed poisoning cases involving red kites across Scotland.
Wildlife crime investigators believe the number of the birds being killed is much higher.
They said the true extent of the illegal killing of birds of prey was difficult to assess, due to the remoteness of the areas where such crimes took place.