Children in Need raises record £2.2m in Scotland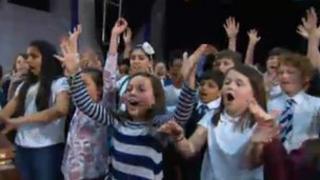 The BBC's Children in Need appeal has raised more than £2.2m in Scotland - a record on-the-night figure.
The show was hosted by presenter Jackie Bird at BBC Scotland's headquarters at Pacific Quay in Glasgow.
Highlights included more than 100 school children from as far afield as Arran, Wick, Orkney and Shetland taking part in a UK-wide choir.
BBC Scotland reporters, presenters and actors also performed a version of Lean on Me with the Gospel Truth Choir.
Fraser Falconer, Head of Children in Need Scotland, said: "It is a fantastic effort by Scotland.
"We know these are tough times financially for many people so we are even more appreciative of this tremendous generosity.
"The money raised will make a difference to the lives of thousands of children across Scotland."
Children in Need raised a record on-the-night total of £26.3m across the UK.
The London TV region raised the single largest sum of just over £4m, with West Midlands collecting £2,258,510 and North West £2,341,246.
The final total for Scotland was £2,201,498.