Secondary teachers vote to join public sector strike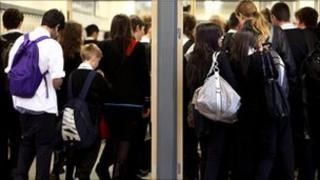 The Scottish Secondary Teachers' Association is the latest union to announce plans to join the mass public sector strike on 30 November.
Of the 66% of SSTA members who voted, 80% were in favour of a walkout over government plans to raise pension contributions and the retirement age.
The EIS and NASUWT unions already plan to join in the first major teachers strike for a quarter of a century.
The SSTA represents 9,000 teachers in Scottish secondary schools.
General Secretary Ann Ballinger said: "The view of the members is clear. We regret that the government has done nothing to change its view on the more damaging aspects of its pension proposals.
"The SSTA would, in particular, comment on the proposal to increase the retirement age for all teachers initially to 65 and by stages to at least 68."
'Victorian mill owner'
She added: "It is now virtually certain that 99% or more of Scotland's primary and secondary schools will be closed on 30 November.
"The ball seems glued to the floor on the government's side of the court.
"The latest government threat that the current 'offer' will be withdrawn if strikes go ahead exhibits the level of thinking prevalent in the current Westminster government.
"We see an approach to public service which would be on a par with that expected from a Victorian mill owner for whom every penny spent on the workforce is seen as a disaster."
More than two million workers across the UK are due to walk out on 30 November for a day of co-ordinated action, which will disrupt schools, courts, government offices, job centres, driving tests, council services and hospitals.