Catching some rays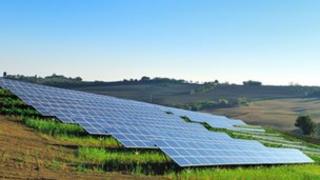 Scotland, we're told, could be the Saudi Arabia of renewable energy - but not if Saudi Arabia gets there first.
On the north-west edge of Europe, this nation is blessed with some of the world's best resource for wind, wave and tidal power.
It also has a seabed apparently well suited for the storage of captured carbon.
But while much of that technology has yet to be proven commercially, the big growth area in renewable energy over the past three years or so has been solar.
In other parts of the world, sunshine is of course abundant. It's reckoned, in theory, that all of Europe's electricity needs 40 years from now could be powered from solar energy in arrays covering merely 4% of the Sahara desert's surface area.
That's the theory. The reality? Well, it's also quite impressive.
The amount being invested in wind power last year around the world - £61bn - was nearly matched by investment of £55bn in solar.
Generation gap
That's being driven by generous subsidies, in Europe and the USA.
American demand for solar power roughly doubled last year, and could double again this year.
With a rapid rundown of Germany's nuclear plants ordered, solar from households and imported from southern Europe is being seen as one way of plugging a large German generation gap.
The solar surge is also powered by a rapid increase in capacity for making solar panels, with China and Taiwan building factories to compete with those of the US.
There's now a glut in the market, and prices have plummeted.
During 2008 and 2009, the average price of the hardware halved. It's expected to fall by at least 50% in the next decade.
Reverse gear
One of the effects of that is for several national administrations to throw into reverse their subsidies to encourage the growth of solar.
The UK government is only the most recent to find that the feed-in tariff is too generous - that's the amount it guarantees to those who install solar panels and feed excess power into the grid.
The uptake has been so enthusiastic that the fund will soon run out. So the subsidy rate has been halved to anyone who registers their installation after 12 December.
With barely two months' notice of the change, it creates a rush of business for the many small companies that set up as installers - and then work suddenly, ominously, dries up.
Spain, France, Italy and Germany have had to take similar measures, not only because the subsidies have been over-successful in encouraging solar power, but because government money is very tight for other, well-publicised reasons.
That about-turn has made investors very unhappy.
Sunshine on Leith
Scotland is no place to develop concentrated solar power, which requires intense light picked up on an array of mirrors for reflection onto a central cell that powers a turbine.
But photo voltaic cells are less demanding. While they are most efficient in bright sunlight, they can generate power without direct sunshine, through cloud.
That's the technology proposed at Jewel and Esk Valley College in Edinburgh, with its so-called solar meadow of panels.
East Lothian and the Hebrides do relatively well for sunshine, explaining why other arrays of solar panels have been planned - even if the subsidy cut has now put them in doubt.
So along with other renewable technologies, Scotland can do solar too - even if it doesn't always feel that way in November.
But it's clearly not a comparative advantage in this country.
And with finance tight, it's another source of competition for the vast investment required for marine and wind power.