The economy takes the low road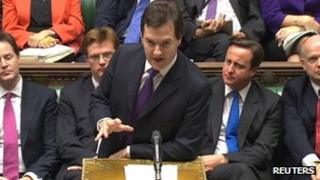 Slower growth, more borrowing, a sluggish recovery and the cuts go on for an extra two years: was there anything to cheer us up about this autumn statement?
Not much, but George Osborne can lay claim to having more of a growth strategy now, being built around infrastructure spend, business de-regulation and education reform, the latter for England.
Some of it reaches across the border, such as Edinburgh becoming one of ten super-connected digital cities. And Scotland's drivers, particularly the rural types facing longer distances, can applaud the postponed fuel tax increase.
Fresh sleepers
But some measures stop at the Tweed. So what happens to them?
The big ticket for Holyrood is nearly £433m extra capital budget. That's spread unevenly (more later, it seems) over the next three years. So that's an average £144m easing the spending squeeze on roads, electrified rail, schools, prisons, a big bridge.
We still don't know if there's much extra revenue along with that capital, because Whitehall's still negotiating over the pay bill. It's unusual to leave that until after a Budget or Autumn Statement. But to be charitable, these are unusual times.
Then there's an offer of £50m to renew the fleet of cross-border sleeper trains, on condition the Scottish government also contributes.
John Swinney, on BBC Radio Scotland's Newsdrive programme, all but agreed that he's up for that. But it could raise an interesting precedent: what if the Treasury takes the same approach to the cost of building a high-speed rail line north of, say, Manchester? That would be an expensive joint venture.
Further funding
Scottish ministers decide how to spend the extra allocation. Further education looks like one gainer, perhaps supporting plans, set out just before George Osborne got to his feet in the Commons, for a new Glasgow college campus.
John Swinney's proposed cut to FE has been one of the easier attack lines from the SNP's opponents at Holyrood, and finding more money for it can be branded as help for youth employment.
Ministers will also have to fit the budget boost to their strategies, due for announcement in the next three weeks, for Scotland's infrastructure and enterprise zones.
The news that they're committing to dualling the A9 between Inverness and Perth, as part of that long-term infrastructure plan, is just the start. But it remains a long time off, and other projects will probably suffer delays or cancellation from more immediate squeezing of that capital budget.
Another challenge to St Andrew's House: whether to implement in Scotland the Treasury's continued tight squeeze on public sector pay - no more than 1% per year, after the freeze ends in 2013.
They may have little choice, particularly as they're trying to keep to avoid compulsory redundancies. But that risks unpopularity, when tensions with public sector workers are already high. And the day ahead of a major strike, the news that the projected total number of public sector jobs being shed has soared from 400,000 to 710,000 is not well timed.
Meanwhile, the plans to differentiate public sector pay across different parts of the UK is an interesting challenge. Which part of Britain wants to be seen as the low-pay magnet, but then, which part is going to turn down the chance of those extra jobs?
Voting on austerity
The SNP government can surely see that the prolonged, sluggish, economic recovery threatens their political plans.
George Osborne had hoped and planned to get the economy on the turn, heading for growth and sunny uplands, when he next faces the electorate. That's in May 2015.
But that now looks much less likely. The austerity will go on through that campaign, making re-election a tougher sell.
It also looks likely that it will go past the Holyrood election in 2016, making that an austerity campaign as well.
And some time before then, there's to be a referendum on independence. Could the changed timetable for recovery affect Alex Salmond's timing of that?
And how will continuing austerity play in the campaign? Could it make Scots feel more downbeat, less confident about themselves and their nation's future?
Or will it make the United Kingdom feel a less attractive prospect for Scotland's future?