Cross-border pensions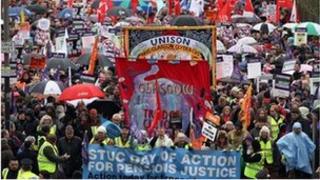 With public sector workers furious about being asked to pay more towards their pensions, how much freedom does Scotland have to go its own way?
The one-day strike has been at least partly about solidarity across the public sector, with much of the unhappiness extending beyond pensions to cover the pay freeze and cuts more generally - cuts that often leave gaps in service for the remaining staff to fill.
But put the cross-border solidarity to one side. How could Scottish public servants avoid the increase in pension contributions, of 3.2% for all but the lower paid, and other changes coming down the road?
John Swinney, the Scottish finance secretary, wished they could. He thinks it's the wrong time to reduce pay packets even more.
That's a point well made on a day when figures show the squeeze in British household spending has been ferocious over the past five years, and we're in the middle of a "lost decade".
He claims the Treasury would dock £8.4m from the Holyrood block grant for each month he declines to implement the contributions increase.
So, with regret, he's going to introduce it from next April, at least for one year (if implemented, it gets stepped up to the full increase three years later).
There are those in the unions who think he should make more of a priority of that in the Scottish government's spending plans. That would cost £101m in one year.
Modest pay
But what if he had freedom to set pension policy free from any interference? If Scotland were independent, for instance?
To ignore the increased costs of pensions, as people grow older, would come at a high price.
It's not just the UK that's feeling the pressure to push up retirement age and pull back on public sector benefits. How would an independent Scotland deal with the issue?
The finance secretary faces big challenges on other aspects of pay and conditions, which are more difficult to blame on Westminster.
The Hutton report on pensions presents challenges that are not just for the UK government to address.
The former Labour pensions secretary, Lord Hutton, did not recommend the 3.2% contributions increase, but he was for a shift away from final salary defined benefits, and a move to later retirement.
That will require decisions in Scotland, at least for Scottish local authority employees. But there's no discussion begun of that yet.
Then, with George Osborne saying he wants to pin back pay increases to 1% for two years after the freeze ends (for most, that's 2013), John Swinney has all but said he sees his plans being very similar. He's said the increase will be "modest", and says 1% has a suitably modest ring to it.
But if the UK Treasury is opening up differentials on pay across the UK, as Mr Osborne announced, is that something the SNP wishes to see brought to Scotland?
It looks like more autonomy, but it may force decisions that ministers at Holyrood would prefer not to take.
Even without that, there's a negotiation on teachers pay and conditions that has to follow from a review of the so-called McCrone deal done a decade ago.
And with teachers showing their willingness to strike as part of the wider St Andrew's Day protest, they may be willing to dig their heels in against change to their pay and conditions too.
In future, the heat from trade unions may not only be on the UK government.