Scotland has warmest November on record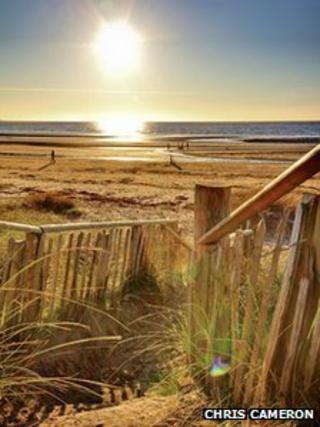 Scotland enjoyed its warmest recorded November last month, according to the latest figures from the Met Office.
The mean temperature for November was 7.7C (45.86F), against the previous record of 7.5C (45.5F) set in 1994.
As winter officially begins forecasters said the autumn period from September to November had been the second warmest since records began in 1910.
For the UK as a whole the mean temperature over the three months was 11.2C (52.16F).
Met Office forecaster Alexander Fox said: "The mild November was caused by winds blowing largely from a warm south or southwesterly direction, with a notable lack of cold northerly winds."
Last November most Scots were dealing with blizzards and freezing temperatures as winter arrived early.
Some parts of the country recorded their coldest nights ever.
Midge bites
In stark contrast, the mild weather at the beginning of this November melted snow which had fallen on Scotland's mountains.
Ski resort CairnGorm Mountain said light coverings which fell in October had completely vanished, even at the summits.
The Met Office figures showed a mean temperature for the autumn period of 9.7C (49.46F) in Scotland.
RSPB Scotland said the "unseasonable warm weather" explained sightings of butterflies in the Highlands.
The raised temperatures were also thought to be to blame for reports of midges biting in November for the first time since monitoring began.
A midge expert said it was "very unusual" for them to be active at this time of year.